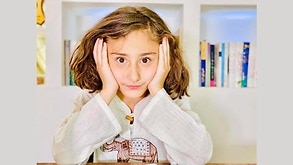 Nma Narima has captured the hearts of many Kurds all around the world for many years. In this interview Nariman Sabir, Nma's father, tells SBS Kurdish about how the little activist dreams of leading the United Nations one day.
In her latests videos Nma Nariman, reminds people to follow the rules regarding hygiene and social distancing for protection against the coronavirus pandemic.
Nma's father says that she has always been a unique child, who stared speaking even before being able to walk.
She was able to form her own opinion on issues, and often she lead the initiative to make a social video and speak about her issues such as animal rights, environment, and daily struggles of lack of running water and electricity…
Mr Sabir was criticised for Nma's video's by some for being political. Nariman Sabir says, "those who criticise Nma, are the ones that are willing to silence every free voice. Asking for adequate services such as running water, and electricity isn't political."
Nma's father says, that she has been the one who is asking all the questions, and always curious to find out about social and environmental issues, since a very young age. "She's the who tells us what she wants to talk about in her videos."
Although she has a particular interest in science, according to Mr Sabir, Nma has big dreams and wishes to bring change not just for her city and country, but to the entire world.
Nma often says she wants to become the head of the United Nations, and we are here to support her dreams. We would never tell her that she cannot, or it is impossible to reach her dreams.
"She follows international events, sometime without us even knowing where she finds out all the information from. For example during the Australian bushfires, Nma was so touched and sad for the wildlife, she said she wanted to make a video for all the kangaroos."